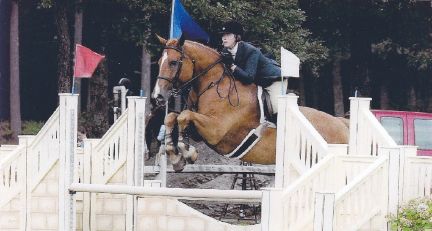 OFFERED FOR ON FARM LEASE: The Sundance Kid

Blondie is a 17.0h 10 year old chestnut gelding. Has done all the local finals, both Junior and 3' Adult- MHC, NEHC, MHJ, SEHA and has had success in all. Always goes, doesn't look at anything! 2009 11th at MHC Junior Medal Final. Champion HITS in limit EQ, ribbons in childrens hunters. Top ribbons at Fieldstone, Head of the Bay, North East Benefit, HITS, and local one days. He loves doing the Hunter Derbys, was 5th and 7th at Fieldstone 3'3''-3'6'' Derby. 2013- went to HITS with novice rider and came back with ribbons. Great ride, lots of fun. Has ribboned in MHJ Adult in Junior finals, and has made multiple callbacks. Great Show record!
uto lead changes, brave, huge stride, and an overall fun ride! Safe for beginners and
competitive
in the show ring, he is currently showing in the 3' and 3'3'' hunters and EQ.
Easy to clip, trailers, bathes, stands for the blacksmith. Has competed in both IEA and IHSA horse shows- always a favorite! Offered for lease, but could be sold to the right person.



Offered for On Farm Lease: Whistling Phoenix
Moo is a 16.1h mare currently competing in the 2'6'' EQ and hunters at local shows. Was 4th in the 2'3'' Hunter Derby at Head of the Bay Classic II 2013. Competitive and cute in the show ring, but super safe and a good teacher for kids at home too. Auto changes and doesn't look at a thing. BOMB PROOF!! Would be great for a kid or adult who wants to do the 2'6'' mini medals or hunters.